Retrofitting Window Air Conditioner Cover
R.A.C. is a retrofitting window air conditioner cover designed to solve air, thermal leakage problems, and energy waste in New York City. The project aims to increase building energy efficiency by protecting unnecessary airflow and thermal exchange indoors and outdoors. Furthermore, by using sustainable energy, the project would reduce carbon dioxide emissions. It is designed to enhance the functional and aesthetic elements of existing window air conditioners between the building facade and interior wall and will be permanently installed through the window of a building.
Window Air Conditioner in New York City
"There are holes in our walls."
New York City is expected to experience numerous challenges as a result of climate change. In response to these impending crises, the New York City government and city council have implemented a Green New Deal policy and rules for reacting to Climate Change. Significantly, New York City has focused on managing existing building energy efficiency for reducing green gas emissions and making renewable energy replacing fossil fuels. Regarding this background, the existing window air conditioner in the NYC multi-family building is supposed to be solved. 
Due to air and thermal leakages through poorly-fitting installations and the openings themselves, heating losses are estimated to cost around $150 million per year in excess fuel use, and result in the emission of around 400,000 tons of carbon dioxide emissions annually. That is to say, existing wall and window air conditioners cause unnecessary energy consumption in New York City.
Green New Deal in NYC for reacting Climate Change
- Reduce Greenhouse gas emissions by nearly 40% by the year 2030, and 80% by the year 2050.
- 
Making tens of thousands of good-paying jobs retrofitting buildings and expanding renewable energy.
- New York City passed a law for building upgrades and guidelines for retrofitting solutions that save energy and lower carbon dioxide emissions.
- Multi-family residential properties make up nearly 65% of all city buildings by area and 75% of the total properties in New York.
- 
They are responsible for 54% of the greenhouse gas emissions from buildings overall and 49.5% of overall energy consumption.
- Heating and cooling system accounts for 70 % of total energy consumption in multi family buildings.
To sum up, the window air conditioner which installed in the multi family building in NYC causes a lot of carbon dioxide emissions. Upgrading existing window air conditioner would be a great opportunity to reduce the carbon dioxide emissions.
Existing Window Air Conditioner + Retrofitting Cover
To reduce carbon dioxide emissions and waste of energy usage, I propose design a window air conditioner cover for retrofitting existed window air conditioners. The cover would be equipped with a solar panel to collect sustainable energy and mechanism openings to protect air leakage from outside. It is designed to enhance the functional and aesthetic elements of existing window air conditioners between the building façade and interior wall and will be permanently installed through the window of a building.
Survey for window air conditioner
Window Air conditioner and Interior Space Experience
Target : 15 multi-family building residents who live in NYC and has window air conditioner.
I surveyed 14 people who live in multifamily buildings in New York about the effect of air conditioning on indoor temperature. Most residents said that they felt cold in the winter due to air leakage through air conditioners. Through the survey, hot air from outside goes inside the building when they are not in use through the window air conditioner in the summer. So residents constantly turn the air conditioner on to cool the indoor environment. In winter, residents constantly use fossil fuels to prevent the interior room from being chilled by outside air entering through air conditioners. In this way, people experienced an uncomfortable environment through the air leakage from the window air conditioner. In other words, residents have to change or upgrade their window air conditioner to live comfortable environment, reduce energy waste and carbon dioxide emissions.
The potential stakeholders of this project would be building managers, building owners, façade contractors, and HVAC contractor companies. When it comes to controlling the building energy management, the building management company and owner are responsible for reducing carbon dioxide emissions and enhancing the building energy efficiency rating until 2030 based on the Green New Deal. Furthermore, the façade contractors and HVAC contractor companies would be great stakeholders to install and managing the window air conditioner. This is because this project must be installed with the owner's permission, and the place where it is installed occupies a space between the exterior wall and the interior of the building by HVAC and façade contractors based on the NYC building code.
Interview with Various Experts
Through the interview of experts, I can understand the architectural facade in multifamily building and window air conditioner engineering issues in NYC. Through the Arta Yazdanseta, I learned the energy conservation and how to method building management and method of reducing carbon dioxide emissions through the green wall, retrofitting facade building, Green New Deal in NYC Policy and constrains, Sustainable architecture building design method. With Sujung Choi interview, I learned multifamily building facade and wall details, residential laws and codes in NYC, facade construction method in multifamily building, details of facade and building code. Finally, I would like to learn the air conditioner mechanism and engineering system. Through the Marc-Aurelien Vivant interview, I recognized that the design of air conditioner have to be considered the heating issues when they work 
Design Strategy; Standardization
Window air conditioning size and design are not standardized on multifamily apartment building facades in NYC. Even some multifamily buildings are equipped with a different brand on each window air conditioner because the building owner, building management, and resident consider the air conditioner's size and capacity based on the window size and room size. However, the windows of multifamily buildings are standardized, making it possible to design a single-size cover for any air conditioner installed and make a standard unit based on the window size.
I want all the mechanisms to work together at once. In other words, when the user opens the door from the inside, the doors on both sides open, and the vent of the air conditioner opens. To do so, I designed the necessary mechanisms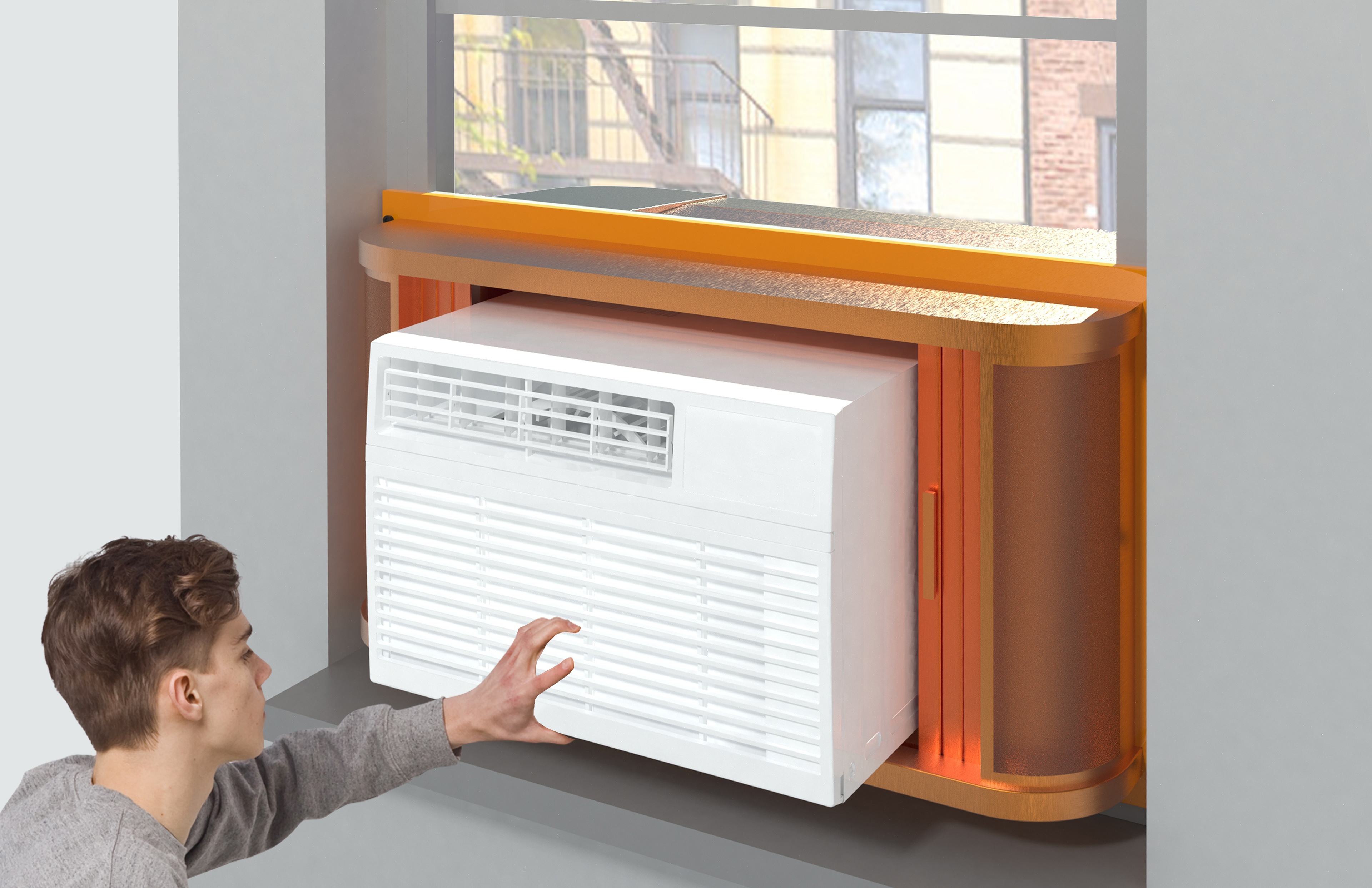 Exploded Axonometric Diagram